Users can download their energy data in CSV format for offline/desktop analysis in their own spreadsheet.
Navigate to the Guidance tab in the Powerpal app, tap on "Export my data". Enter the start date and end date to generate a download link and then export the link via email or another app to access it on your desktop computer.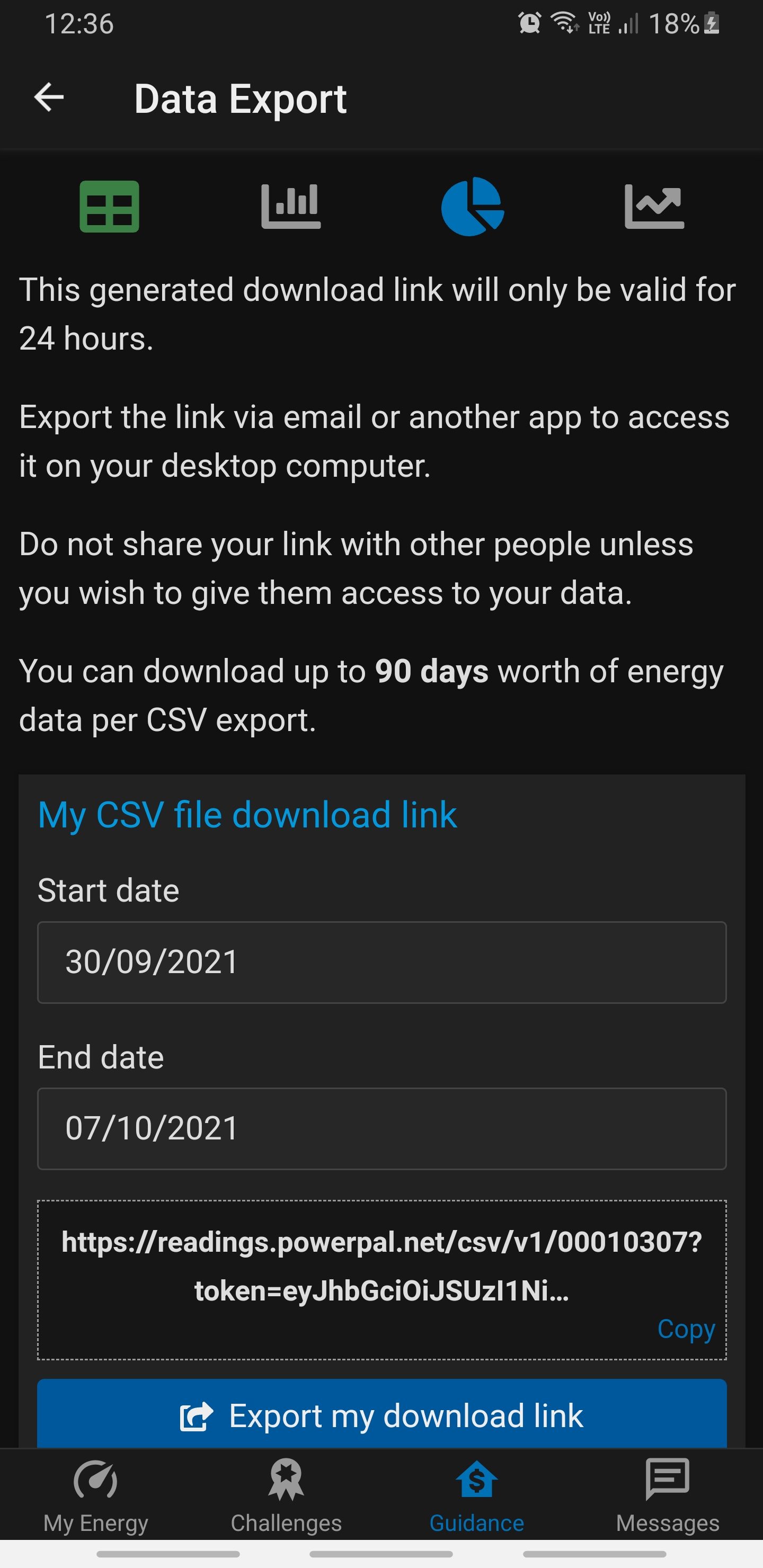 We are also currently evaluating customer demand for an API (to allow for connecting to IFTTT, Home Assistant, etc) and have this on our development roadmap for review in 2021. One of the issues we have in developing an API for Powerpal is that the connectivity is Bluetooth Low Energy, so you have to have your phone in range to pick up the data - which isn't a great fit for many home brew/home automation applications.
To resolve this we're considering developing a stand alone BLE -> WiFi gateway.
If you would be interested in becoming a beta tester for the gateway and API please head over to our Beta Program page to register your details and include why you want to be a member of our Beta tester program.
IMPORTANT NOTICE
Connecting third party applications to Powerpal directly over BLE is not (and will never be) supported due to potential data security risks. Any attempt to connect to Powerpal directly over BLE and retrieve data may trigger anti-tamper measures which would render your Powerpal inoperable, as well as voiding the warranty.
If you are searching for a truely "hackable" home energy monitoring solution we recommend you check out the Open Energy Monitor project. They sell an open source Powerpal equivalent based on the raspberry PI platform and offer an optical sensor and transmitter in their shop:
https://shop.openenergymonitor.com/emontx-energy-monitor-transmitter/
Ensure to include the "Optical Utility Meter LED Pulse" in your purchase!
Please note Powerpal is in no way affiliated with the Open Energy Monitor project and we will receive no commission on any purchase you make from their store. We simply love all technologies that help homes be more energy efficient and hope to connect every household with the best energy monitoring product for them.